| | | |
| --- | --- | --- |
| | [o] ==> | |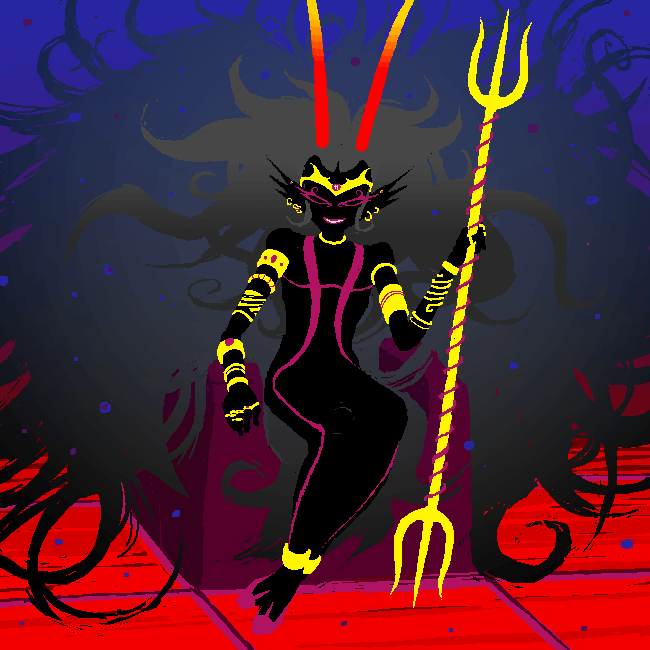 If angered, she could simply express her grievance through communion with her ancient lusus of the deep, and turn its psychic devastation on her multitudes. The class hierarchy played into her hands politically in this respect. Killing off a haphazard swathe of the population, or an entire class, was suitable as a measure of last resort, but mass extermination does not lend itself well to practical governance. Its looming threat however is quite effective, especially while her empire was partitioned neatly into blood castes. She could use her leverage to delegate oppression to the subjugglators, whose unique abilities and exceptional brutality made them natural enforcers. They too would delegate in their governance, exploiting the pride and loyalty of dangerous bluebloods beneath them, and so on down the hemospectrum, until the enslavement of the common castes was inescapable, in spite of their genetic gifts and strength in numbers. As a self-governing body, the land dwelling portion of her empire was formidable. But her force of sea dwellers was equally formidable, and the two were kept in check not only with the threat of psychic annihilation, but their mutual hatred and distrust.

The only threat to her power was unification through uprising, a possibility made remote once she fully decentralized the race from the homeworld. She scattered all but the children throughout the galaxy after the most recent rebellion led by the Summoner. Upon doing so, she became so comfortable with her grip on power, she risked venturing deeper into space than ever before to grow her empire.

But the more space she put between herself and Gl'bgolyb, the more she risked weakening her bond with the monster. The bond she and her successor shared with it exclusively could sway, and become strengthened with the younger. Perhaps she grew complacent with the threat successors posed, after such a long history of killing them with ease. Heiresses upon reaching maturity were expected to challenge the Condesce for the throne. It was not merely expected of them by their people, but demanded by their shared lusus.

I like to think of her as the pet I gave to their race, at the dawning of their species' evolution. Like a sentience-warming gift. Again, it's just the sort of thing a good host does.


| | |
| --- | --- |
| | |


RSS: Adventure Updates



Posted on 2 July 2015 by Andrew

Here is an announcement!

Starting now,

We Love Fine

will become the primary seller of Homestuck products. Almost everything from the What Pumpkin store will be gradually moved over to the We Love Fine store over the next few weeks. We're also working on a lot of cool new things, which will show up in the WLF store over the following months.

WLF is also running another

shirt design contest

this month. There were a whole lot of great entries last time, and many of them ended up getting printed. Maybe YOU have a cool idea for a shirt this time around?? I would like to see it!

In closing, I will say this. We Love Fine is a great company! I've worked with them for a couple years already. The people there are VERY enthusiastic about making great stuff for fandoms. Take a look around their

site

. There's a good chance you will see stuff for other properties you like as well. I'm looking forward to seeing what else they're going to make for Homestuck!

Posted on 2 June 2015 by Andrew

Posted on 22 April 2015 by Andrew

BEHOLD, THE HORSE CALENDARS

As you can see, it is a pretty swift horse schedule, with a couple of horseless weeks mixed in there. You may recall my mnemonic device for remembering the previous M/W/F schedule of Monhay, Wedsneigh, and Frihorse. Now we can add two more to help you remember, Tuesnort, and Thursclop. I understand this comic can get confusing sometimes, so you are definitely going to need those to help guide you on the rest of this journey.

All pages for the above horses have already been drawn. I still have a batch of pages to draw to round out A6A6I5, but not as many as I have already done. I hope that you like it when characters in stories talk to one another, because there's an awful lot of that to come. Please stand by patiently and enthusiastically as my fake teens sit around bullshitting to the bitter end. Then a bunch of cool stuff will happen, and that will be that!