| | | |
| --- | --- | --- |
| | [o] ==> | |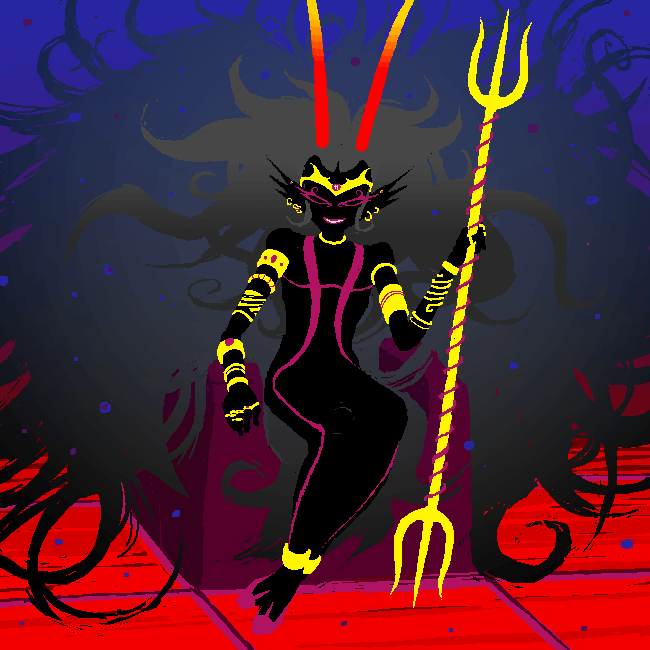 If angered, she could simply express her grievance through communion with her ancient lusus of the deep, and turn its psychic devastation on her multitudes. The class hierarchy played into her hands politically in this respect. Killing off a haphazard swathe of the population, or an entire class, was suitable as a measure of last resort, but mass extermination does not lend itself well to practical governance. Its looming threat however is quite effective, especially while her empire was partitioned neatly into blood castes. She could use her leverage to delegate oppression to the subjugglators, whose unique abilities and exceptional brutality made them natural enforcers. They too would delegate in their governance, exploiting the pride and loyalty of dangerous bluebloods beneath them, and so on down the hemospectrum, until the enslavement of the common castes was inescapable, in spite of their genetic gifts and strength in numbers. As a self-governing body, the land dwelling portion of her empire was formidable. But her force of sea dwellers was equally formidable, and the two were kept in check not only with the threat of psychic annihilation, but their mutual hatred and distrust.

The only threat to her power was unification through uprising, a possibility made remote once she fully decentralized the race from the homeworld. She scattered all but the children throughout the galaxy after the most recent rebellion led by the Summoner. Upon doing so, she became so comfortable with her grip on power, she risked venturing deeper into space than ever before to grow her empire.

But the more space she put between herself and Gl'bgolyb, the more she risked weakening her bond with the monster. The bond she and her successor shared with it exclusively could sway, and become strengthened with the younger. Perhaps she grew complacent with the threat successors posed, after such a long history of killing them with ease. Heiresses upon reaching maturity were expected to challenge the Condesce for the throne. It was not merely expected of them by their people, but demanded by their shared lusus.

I like to think of her as the pet I gave to their race, at the dawning of their species' evolution. Like a sentience-warming gift. Again, it's just the sort of thing a good host does.


| | |
| --- | --- |
| | |


RSS: Adventure Updates



Posted on 21 November 2014 by Andrew

A friendly reminder that the designated artist for all Calliope art in Homestuck is

Shelby Cragg

. So please buckle up. We have entered the Shelby zone, and we may be here a little while. She and her pal Taz have also just completed

a webcomic

which you should also take a moment to check out. It looks good!

Posted on 19 November 2014 by Andrew

Around this time of year, people just seem to be in the mood to buy things. I can't seem to put my finger on it. Could it be enthusiasm over

Eat A Red Apple Day

? (Cool fact: every day is this day if you are a horse.) Or maybe it's the notorious early shopping rush for

Bathtub Party Day

. Wait, no, it must be due to the usual hustle and bustle surrounding

Oatmeal Muffin Day

. That's the ticket.

Actually no, those are all stupid holidays that make no sense to anybody. I will have to remain just plain stumped over this. Nevertheless, What Pumpkin is more than prepared to facilitate your inexplicable 4th quarter spending impulses. Please observe this desirable merchandise which you can computer-click on at any moment of your choosing.

A CALENDAR SOME FESTIVE CARDS SCARF(S) Plus way more stuff!

Posted on 8 November 2014 by Andrew

I recommend moseying over to

Paradox Space

, which is currently running a 24 page comic I have written about Crowbar. I am alert to the desires of readers every single day, and the one thing I hear them clamor for above all else, is more stories about CROWBAR. We want more content about Crowbar, RIGHT NOW, they say, and make that content consist of 24 beautifully illustrated comic pages, MINIMUM. I just give the people what they want.

Fortunately, Homestuck's Premier Felt Fan #1

Jones

was available to do a spectacular job of illustrating this comic. My rambling noir-style monologues have never before overlapped such lovely artwork.

Posted on 1 November 2014 by Andrew

A6A6I4 is approximately 450 pages. It begins 11/3. Here is the update schedule for the whole thing.

Posted on 30 October 2014 by Andrew

Adventure Game Update

I am letting

this one be viewable to the general public

. (It will also be posted to the backer page of the Kickstarter.)

Homestuck continues this Saturday, with A6A6A4 posted in its entirety, resuming with the true focus of Homestuck, Caliborn's incredible journey as an artist. Then A6A6I4 starts on Monday, and will continue in a semi-regular manner thereafter, until it is done. I will find some horse calendar pages and illustrate the schedule for your convenience. You are, as always, welcome.

Posted on 25 October 2014 by Andrew

[S] GAME OVER.

Song is

Carne Vale

by Malcolm Brown. Always been a big fan of Malcolm's work, so it's cool to kick off the comic again with one of his songs.

Thanks to contributing artists

Hanni

,

Matt

,

Jon

,

Rennie

,

Zack

, and

Jones

. All of whom have contributed to

Paradox Space

as well. I haven't done a (non-game) Flash with a lot of contributing artists in a while. I think Cascade was the last one? Kind of a throwback to the old Art Team days. Remember that? Actually, the expanded network of PXS artists is almost like Homestuck Art Team 2.0. A number of the (now many) artists involved with that comic have sorta parlayed that work into other HS projects, including stuff for the game (more on that soon). It's been pretty awesome having so many great artists help build on the Homestuck universe.

About the Flash. Or really, A663 as a whole. Truly we are back in the saddle, with bad anime and mass murder - the quintessential Homestuck Experience. A year ago I knew I was going to have to pause for a long time. I made sure to cut it off just before this act, not after. Leaving you hanging on that note for a year... damn. Not even I am that cruel. Now you will only have to wait a week to see what happens next. I will say this much. It sure is a bunch of stuff that happens. The regular update engine lurches back to life on 11/1.

Posted on 19 October 2014 by Andrew


Next update is 10/25.



Posted on 16 October 2014 by Andrew


The Itinerary.

Or maybe, since Halloween is coming up, I should call it The Itinerscary. Especially because we may be in store for some spoooooky server crashes with these first few update dumps. Eep, I'm gettin the willies here!

One page today to test the waters (or uh, yesterday). When that's done and the coast is clear (it won't be), I'll post a bunch of pages on the 17th and 18th (oops, now the 18th and 19th). Then there will be nothing until 10/25. And then nothing until 11/1, at which point regular updates will begin again, according to an update schedule which I will share with you on that day. Then you will know which precise pattern of dates you will need to handcuff yourself to a computer and plug in your custom keyboard that only has a single giant F5 key.

It would seem against my better judgment, or really my ability to control in any way whatsoever, a fair amount of hype has been brewing for the return of Homestuck. People are jacked up. They are doing little dances in places they cannot be seen. They are writhing in kiddie pools of pins and needles for the return of all their favorite fantasy children. "John." "Karkat." And more. So it's hard to avoid finding it just a LITTLE funny that after a year-long drought, hopping back in the saddle means we will have to wade through 50 pages of completely atrocious garbage before anything happens. It's funny how life works out sometimes. Funnier than a clown tickling a horse. Sometimes you pause your famous webcomic for a year, and then your grand reopening is a lot of bad anime. On such occasions, when life hands you those kooky lemons, there is really only one thing you can say.

Fuck lemonade. These lemons are incredible.