| | | |
| --- | --- | --- |
| | [o] But the story will. | |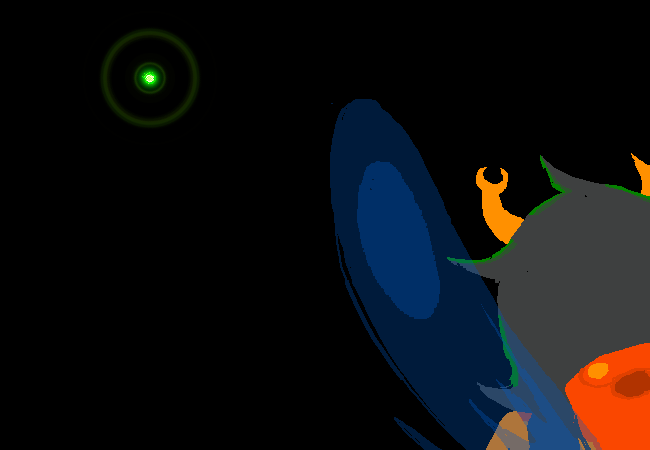 The Slayer was, for the moment, unmotivated by the Thief's motion for a compelling duel. This side of The Scratch, he opted for a more ruthless and calculating policy of extermination. On his arrival, not about to repeat the mistakes leading to his banishment, he quickly obliterated all twelve planets, followed by Prospit and Derse, to weed out those who might outsmart him in the same manner.

With as little fanfare, he seized the opportunity to follow the Thief's trail quickly before it dissipated, and destroyed their hideout in the veil.


| | |
| --- | --- |
| | |


RSS: Adventure Updates



Posted on 13 April 2016 by Andrew

[S] ACT 7

The song is by Clark Powell, and extended by Toby Fox. It's available here on

bandcamp

. It was originally featured in Clark's album,

Symphony Impossible to Play

.

Today marks exactly seven years from the day Homestuck began. And Act 7's single-page installment marks the end of the story. Seven acts in seven years, to finish a sprawling "creation myth about kids in houses," as I would describe it for those who asked what my next project was about before I started it. What is there to say about this ending? The short and funny answer is, Homestuck has finally completed its long journey over the rainbow, and become the anime it was always meant to be. The longer and less funny answer will need some reflection. Maybe some day I will say some things about it. For now, I will leave you to draw your own conclusions.

The animation itself had a fairly complicated production history. I actually storyboarded it about four years ago. In fact, some of the shots I visualized before I even began Homestuck. I'd like to extend very special thanks to

Angela Sham

, who took the reins on the animation while it was in progress, and worked with me closely on it for about a year until it was done. She's a great animator, and I'm quite excited that she's continuing to work with us on the game.

It probably goes without saying, but ending this story is a personally significant moment as well. I could say more about this too, but I'd rather not fill the news section with too many words today. For now, all that's left to do is express some appreciation. Whether you've been here from the beginning, hopped on board somewhere along the way, or only heard of it last week and made an insane dash through the archive to catch up in time for the conclusion, I mean this sincerely:

Edit: one more thing. If you're curious about whether there will be anything resembling an epilogue to this ending, yes, I've been thinking about that for some time. It'll take a while to produce though, whatever specific form it ends up taking. Working on Collide took months, and came right down to the wire. I've got more time now though obviously. But that said, I'm not in a huge hurry at this point. Keep an eye out here for developments. There should be plenty of other news in coming months too.

Posted on 8 April 2016 by Andrew

Couple things! First,

We Love Fine

has released a series of cool shirts based on art from the Collide animation.

Second, all those shirt designs plus a bunch of other illustrations from Collide are also available as prints. You can get then in the

What Pumpkin Store

, which has just been relaunched primarily to offer prints, but also a few other items left over from the previous WP store.

Edit: Also, in case you haven't noticed yet, if you buy the full Homestuck discography on

bandcamp

right now, it is very heavily discounted. Not a bad time to grab the whole set, if you've been meaning to.

Posted on 7 April 2016 by Andrew

Thanks to the

extensive group of artists

who contributed to the end of act animation. Clearly it was a significant undertaking, and it wouldn't have been possible without so many great artists enthusiastically collaborating on it for months. Also thanks to Seth, Toby, Malcolm and Joren for the awesome music. It's currently

available on bandcamp

.

The panels posted between now and 4/13 were made by WP artists Adrienne, Angela, Gina, and Rah. They're really good!!! We're almost there. Act 7 drops on 4/13.

Posted on 28 Mar 2016 by Andrew


Here is the plan. Starting today, there will be 6 days of updates (about 125 total pages). Then a brief pause. Then on 4/6, I'll post the END OF ACT 6 animation.

That should immediately be followed by 7 days of updates (about 40 total pages), ending with an update on 4/13, the 7th anniversary of Homestuck. That update will contain ACT 7 in its entirety.

The current 125 page stretch was drawn by a few guest artists. Gina Chacon, Mallory Dyer, and Adrienne Garcia (all artists for WP). The panels they did are very good, and I think make for a nice runway leading up to the final animations. Of course there are a lot of other great contributing artists to all that content as well. Thanks for the patience during the Omegapause. I hope you enjoy the conclusion to Homestuck.



Posted on 7 Mar 2016 by Andrew

The second Paradox Space book is

available to order

. It contains all the stories not published in the first book (which you can find

here

). It also contains a bonus story I wrote which is only available in the book. You can see a preview for that story

here

.

Posted on 1 Feb 2016 by Andrew

SHOUT OUT ZONE BELOW

Welcome to the shout out zone, here are a couple of shout outs. The first shout out is,

NEO-KOSMOS

: A comic by my friend Shelby (who did all Calliope art for HS), and her friends Amber (works on Steven Universe) and Adrienne (also does a lot for HS). They've been working really nicely with the MSPA format. It's a quick read to catch up, and it really feels like the story has been taking off lately. I'd recommend you at least read up to a very cool animation they just posted (which includes a song by Toby). If you're looking for a fun story to follow over the next few months while you wait for HS, I think this is a good pick!

The next shout out is

UNDERTALE

, by my friend Toby. I know I mentioned it on the KS update but it probably bears repeating here too. Also I guess it's not so much a "signal boost" since by now UT is PRETTY WELL KNOWN! Let's get real, Toby is probably the one who should be giving HS shout outs from now on. Though it's not about giving UT a boost in popularity so much as a reminder that I believe he has made a fun and special game, and if you haven't gotten around to playing it yet, I think you should! It's an experience that anyone who likes games should have.

Ok, see you in another month. Bye.

Posted on 9 November 2015 by Andrew

If you haven't seen yet, the winners for the

WLF shirt design contest

were announced a little while ago. Lot of great designs this year! Thanks a bunch to everyone who participated.

Posted on 30 September 2015 by Andrew