| | | |
| --- | --- | --- |
| | This is getting kind of confusing. | |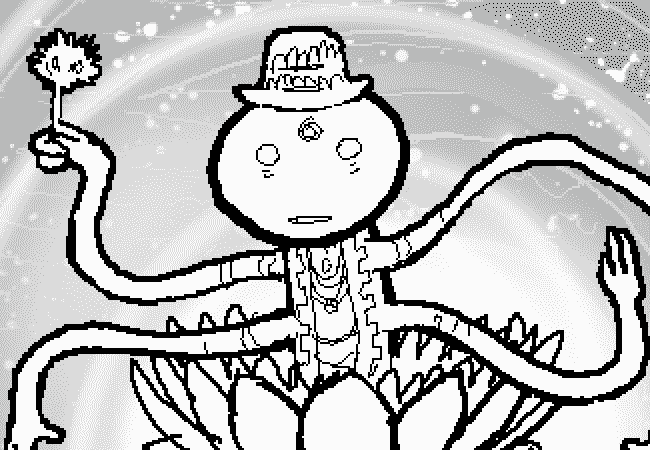 Godhead Pickle Inspector thinks you should just relax and have fun, and not worry too much about it.

But if you need a refresher on what's actually going on with all these character duplicates and time-bending shenanigans, he offers the scoop.

There is still only one Problem Sleuth, who is off in some enchanted land sifting through a political crisis.

There is one real Pickle Inspector, and there were 8 imaginary Pickle Inspectors. All but two of them were killed, and one became GPI. The other one just split into two, and one of those just went back in time and died. The other one went into the future, possibly to reappear some time later. This means there is now one real Pickle Inspector in the present, and one imaginary one in the future.

There are 3 Ace Dicks, for the following reasons.

PS, AD and PI each have a lady counterpart, in accordance with deep seated mythology that dictates that any man secretly wishes to have sex with a female version of himself (re: Alvin and the Chipmunks, Mickey/Minnie, etc.) HD is PS's counterpart, NB is PI's, while AD is his own counterpart because he has a very poor imagination. So that's one duplicate AD, the one with the wig/helmet.

Also, a while ago AD used a game code to restore an earlier state in the game. That earlier version of AD went through the storefront and out the music box and became small AD. Meanwhile, the present AD went about his business in the present.

That makes 3 Ace Dicks, the normal one, the small one with the skull (though now normal-sized), and the girl one, who is not actually a girl.

See, how hard was that???


| | |
| --- | --- |
| | |


RSS: Adventure Updates



Posted on 27 November 2017 by Andrew

Here's another huge deal announcement. A "bomb shell", you could say. The zodiac has officially been extended to include 288 signs, instead of the meager assortment of 12 you are familiar with. The resulting system is known as the

Extended Zodiac

. You may determine your True Sign by taking a test, if you wish.

I envisioned an expansion like this a couple years ago, when it became clear that due to the large volume of NPCs in Hiveswap, many new troll symbols would have to be created. So we made a large library of symbols to draw from when designing characters (A lot more symbols than characters. Don't worry, the game roster isn't THAT out of control.) But why stop at just a static library of new signs when you could take the opportunity to reinvent astrology itself?

The test uses a couple other personal classifiers from Homestuck lore to triangulate your True Sign designation from this dizzying barrage of iconography. What do you do with this information? I don't know. Make some cool new OCs? Discuss your new sign with friends? Cause great agitation and bewilderment among astrological purists? The sky's the limit. Also, those invested in what qualifies as "canon" when it comes to Homestuck lore may take interest in this test, which formally evaluates whether you are a Prospit or Derse Dreamer (involving a new term of art for the sake of this system, called Lunar Sway), as well as your Aspect. I am sure some will wonder whether this means a God Tier Class test will be available as well. Some day, yes, probably. For now, only Aspect is applicable to this system. But the precedent now exists for the expectation to be CANONICALLY classified by literally any absurd profiling system I have ever concocted, and you have just obtained a full license to not let anyone forget this.

Posted on 17 November 2017 by Andrew

Here's a very special new book made by me,

dril

, and

KC Green

, which you can

preorder here

. This seemed like a good way to do it since we had no idea how many of these books to print. A hundred? A million? ZERO??? You guys will decide. Plus there's a lot of other cool stuff there. If you have any interest in this book at all, it's probably a good idea for you to jump on it now. There's no telling how easy it will be to get your hands on after the first run has shipped to backers.

About the friends who helped out: my guess is you are probably familiar with dril's twitter brand? A couple years ago we talked about working on this, one thing led to another, and now here we are asking you to buy a book with a spoon concealed inside of it. The way I see it is, you don't just get any clown off the street to write for characters with the complexity and emotional depth that these ones have. You bring out the big guns. This is a man who knows his way around a huge ass. A man who knows all too well the plight of the gamer. A man who won't hesitate to engage with some of your favorite brands, and will not flinch at a longform narrative about a pissed off guy searching the world for his spoon.

KC Green has already done some good work with the SBaHJ franchise, you may remember. For the sake of authenticity I did a lot of coloring work over his pencils and put some serious attention on generally screwing everything up. Don't worry, we had some very important standards of quality that I took great care to ensure we catastrophically failed to meet. KC does a lot of other great stuff too. Did you know he did the dog who says this is fine even though the room is on fire? It's crazy how much people love that damn dog. Not everyone knows he did it though, and people should applaud him more for his stuff. Same with dril. Let's hear it for these boys and their priceless contributions to our society. I hope you like this book!

Posted on 11 November 2017 by Andrew

Hey check it out. Every week we'll be revealing some new troll characters from Hiveswap until Act 2 is out. Follow the Troll Call

here

, and meet the first two

here

. Expect a few more surprises like this to drop in coming weeks.

Posted on 14 September 2017 by Andrew

ANNOUNCEMENT ONE

Hiveswap

has been released. You should go play it!

Huge thanks to the entire

What Pumpkin Games team

for all their hard work on this project. Everyone involved has much to be proud of. Personally, I think the game is VERY GOOD! Really, better than I imagined it would be when scribbling notes for it years ago. Credit is owed to the fans for their patience while the necessary time was taken to build a studio capable of making a game like this. And above all, credit is owed to the great team that brought it to life. If you happen to spot any contributors out in the wild, on social media or such, I hope you will extend your appreciation for what they have accomplished.

ANNOUNCEMENT TWO

What Pumpkin and Homestuck are partnering with

Viz Media

to work on a lot of cool stuff together in the future. This will include projects based on both the Homestuck and Hiveswap worlds. The possibilities are wide open, but here are a couple examples of things we know we're going to work on already...

Viz will begin releasing the Homestuck books again, starting next year. These will be nice new hardcover editions, and the plan is to just keep turning out volumes until the entire story is in print. Each volume will be full of my Secret Notes just like the previous ones were. Viz will also be involved in the release of the mysterious epilogue project I alluded to a while ago. Details on format, release date, etc, will remain undisclosed until further notice, but you can expect more information about that to surface next year too. I wanted to do something a little unusual for it, something existing outside the confines of the web story. Working with Viz struck me as good opportunity for this.

Aside from that, anything can happen. Take a look at the sorts of things Viz has already published or produced. These are all examples of things on the table for future consideration for either Homestuck or Hiveswap. I've got plenty of ideas, and so do they. Maybe you do too??