| | | |
| --- | --- | --- |
| | This is getting kind of confusing. | |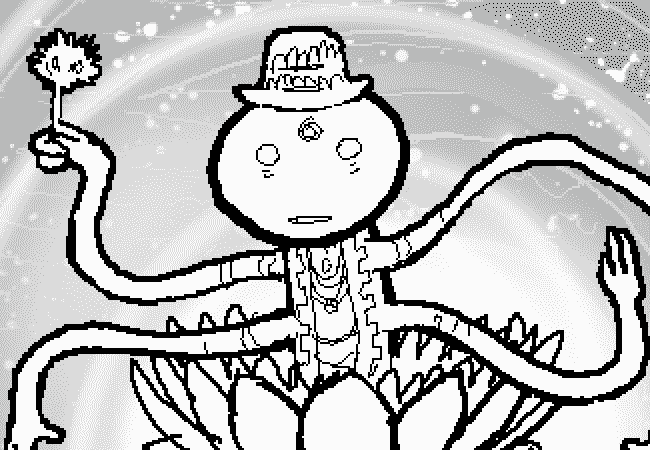 Godhead Pickle Inspector thinks you should just relax and have fun, and not worry too much about it.

But if you need a refresher on what's actually going on with all these character duplicates and time-bending shenanigans, he offers the scoop.

There is still only one Problem Sleuth, who is off in some enchanted land sifting through a political crisis.

There is one real Pickle Inspector, and there were 8 imaginary Pickle Inspectors. All but two of them were killed, and one became GPI. The other one just split into two, and one of those just went back in time and died. The other one went into the future, possibly to reappear some time later. This means there is now one real Pickle Inspector in the present, and one imaginary one in the future.

There are 3 Ace Dicks, for the following reasons.

PS, AD and PI each have a lady counterpart, in accordance with deep seated mythology that dictates that any man secretly wishes to have sex with a female version of himself (re: Alvin and the Chipmunks, Mickey/Minnie, etc.) HD is PS's counterpart, NB is PI's, while AD is his own counterpart because he has a very poor imagination. So that's one duplicate AD, the one with the wig/helmet.

Also, a while ago AD used a game code to restore an earlier state in the game. That earlier version of AD went through the storefront and out the music box and became small AD. Meanwhile, the present AD went about his business in the present.

That makes 3 Ace Dicks, the normal one, the small one with the skull (though now normal-sized), and the girl one, who is not actually a girl.

See, how hard was that???


| | |
| --- | --- |
| | |


RSS: Adventure Updates



Posted on 2 July 2015 by Andrew

Here is an announcement!

Starting now,

We Love Fine

will become the primary seller of Homestuck products. Almost everything from the What Pumpkin store will be gradually moved over to the We Love Fine store over the next few weeks. We're also working on a lot of cool new things, which will show up in the WLF store over the following months.

WLF is also running another

shirt design contest

this month. There were a whole lot of great entries last time, and many of them ended up getting printed. Maybe YOU have a cool idea for a shirt this time around?? I would like to see it!

In closing, I will say this. We Love Fine is a great company! I've worked with them for a couple years already. The people there are VERY enthusiastic about making great stuff for fandoms. Take a look around their

site

. There's a good chance you will see stuff for other properties you like as well. I'm looking forward to seeing what else they're going to make for Homestuck!

Posted on 2 June 2015 by Andrew

Posted on 22 April 2015 by Andrew

BEHOLD, THE HORSE CALENDARS

As you can see, it is a pretty swift horse schedule, with a couple of horseless weeks mixed in there. You may recall my mnemonic device for remembering the previous M/W/F schedule of Monhay, Wedsneigh, and Frihorse. Now we can add two more to help you remember, Tuesnort, and Thursclop. I understand this comic can get confusing sometimes, so you are definitely going to need those to help guide you on the rest of this journey.

All pages for the above horses have already been drawn. I still have a batch of pages to draw to round out A6A6I5, but not as many as I have already done. I hope that you like it when characters in stories talk to one another, because there's an awful lot of that to come. Please stand by patiently and enthusiastically as my fake teens sit around bullshitting to the bitter end. Then a bunch of cool stuff will happen, and that will be that!