| | | |
| --- | --- | --- |
| | This is getting kind of confusing. | |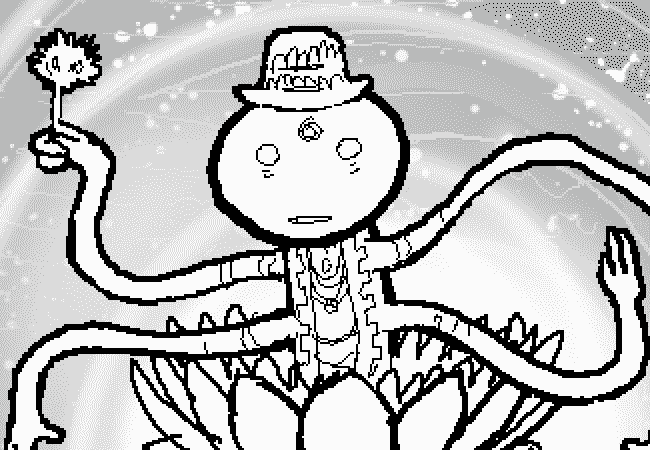 Godhead Pickle Inspector thinks you should just relax and have fun, and not worry too much about it.

But if you need a refresher on what's actually going on with all these character duplicates and time-bending shenanigans, he offers the scoop.

There is still only one Problem Sleuth, who is off in some enchanted land sifting through a political crisis.

There is one real Pickle Inspector, and there were 8 imaginary Pickle Inspectors. All but two of them were killed, and one became GPI. The other one just split into two, and one of those just went back in time and died. The other one went into the future, possibly to reappear some time later. This means there is now one real Pickle Inspector in the present, and one imaginary one in the future.

There are 3 Ace Dicks, for the following reasons.

PS, AD and PI each have a lady counterpart, in accordance with deep seated mythology that dictates that any man secretly wishes to have sex with a female version of himself (re: Alvin and the Chipmunks, Mickey/Minnie, etc.) HD is PS's counterpart, NB is PI's, while AD is his own counterpart because he has a very poor imagination. So that's one duplicate AD, the one with the wig/helmet.

Also, a while ago AD used a game code to restore an earlier state in the game. That earlier version of AD went through the storefront and out the music box and became small AD. Meanwhile, the present AD went about his business in the present.

That makes 3 Ace Dicks, the normal one, the small one with the skull (though now normal-sized), and the girl one, who is not actually a girl.

See, how hard was that???


| | |
| --- | --- |
| | |


RSS: Adventure Updates



Posted on 13 April 2017

Got a new

trailer

for you to check out.

Furthermore, there looks to be a

post

from ya boy, and mine, (the world's boy, really), Cohen, providing some insight as to the status of the game's development.

It also seems that a famous meat sandwich shop, called Arby's, has tweeted about Homestuck today? Why don't we call that the huge news of the day. Hell, let's agree to regard it as the most significant event of the past eight years.

Also a reminder of the

What Pumpkin

sale, including discounts on albums.

Posted on 7 April 2017

We Love Fine has begun its traditional 413 promotion. Have at it, folks:

There's also a sale going on at the

What Pumpkin

store.

Not much else set to drop on 4/13 this year. Should be an update on game status. See you then.

Posted on 12 June 2016 by Andrew

The final Homestuck album

Volume 10

has been released. More fantastic music by many familiar names who have contributed to the comic over the years. Thanks to all who came together to make this. It's a great way to cap off an impressive

discography

, now standing at 27 albums.