| | | |
| --- | --- | --- |
| | [o] ==> | |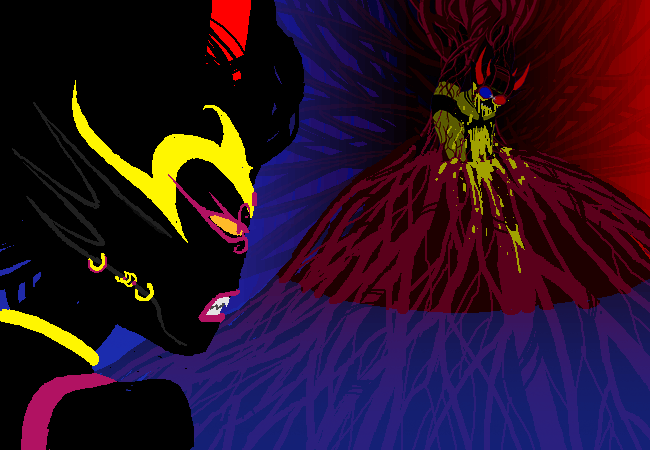 If the lapse in her custodial bond was significant enough, it was not just political power she risked. At such a distance, she sacrificed concentration needed to curb its most dreadful psychic shriek of all, the galaxy-wide extinction event called the Vast Glub.

Of course this eventuality proved a fitting reward for such reckless expansion of her territory. She chose the worst time possible to explore further from the homeworld than she'd ever been. She was scouring the edge of the galaxy for systems to plunder when she received word of her planet's devastation by meteors. The young were being slaughtered. The mother grub was dead. The end times were upon her people.

She ordered all fleets to return to Alternia. But such was her empire's expansion and interplanetary occupation, few could make it in time to provide any meaningful defense. She instructed her Helmsman to pilot the ship faster than he ever had, and he did so through extreme physical duress. He was able to leap across thousands of light years in a matter of hours. The exertion likely would have killed him, if the Glub didn't get to him first. Her touch could extend life, but never restore it, to her lament.

In that instant, her empire was gone. Gl'bgolyb's swan song wiped out her entire race, save the Condesce and her lone heiress, leaving the empire nothing more than a galactic necropolis of floating tombs.


| | |
| --- | --- |
| | |


RSS: Adventure Updates



Posted on 27 July 2015 by Andrew

That was the last update for a good while. I'll say more about the pause soon.

The flash: song was an old and good

one by Malcolm Brown

, whose name I'd hope you would be familiar with by now. Art contributed by

Adrienne

,

Ikimaru

,

Guzusuru

,

Shelby

, and

Rah

. Great to work with all these people again. As has always been the case, the enthusiasm for the story by all contributors really shows in the work they do, and makes the final animation result feel a lot more special than it otherwise would be. A big thanks to all these artists, along with anyone else who ever left their artistic mark on this story.

Posted on 23 July 2015 by Andrew

9828

had a song and a drawing by James Roach and Ipgd respectively. Whoa, those are respectively very very good. The doomsday screed is by

this son of a bozo

, and it does appear to have motivated quite a STRONG wave of selfie posting. Maybe enough to even save the website from old man Hussie? Guess we'll find out. Hmm, sure does seem like Homestuck has a lot of good lookin' readers. I must say I am impressed. I have taken quite an extensive tour through your offerings and I have yet to find an unattractive face in front of Arquiusprite's tremendous buttocks. Kudos to every single selfie-snapper for being so preposterously photogenic. Just, wow. People have got a couple

tumblr archives

already if you want to take a look. I don't know which of those is "better," or more exhaustive, but you know what, a little competition never killed anybody. I guess they can be like the Coke and Pepsi of this baloney ass stunt, for as long as people wanna keep pointing phones at their own faces.

Posted on 2 July 2015 by Andrew

Here is an announcement!

Starting now,

We Love Fine

will become the primary seller of Homestuck products. Almost everything from the What Pumpkin store will be gradually moved over to the We Love Fine store over the next few weeks. We're also working on a lot of cool new things, which will show up in the WLF store over the following months.

WLF is also running another

shirt design contest

this month. There were a whole lot of great entries last time, and many of them ended up getting printed. Maybe YOU have a cool idea for a shirt this time around?? I would like to see it!

In closing, I will say this. We Love Fine is a great company! I've worked with them for a couple years already. The people there are VERY enthusiastic about making great stuff for fandoms. Take a look around their

site

. There's a good chance you will see stuff for other properties you like as well. I'm looking forward to seeing what else they're going to make for Homestuck!